Gates
Barrier Arms
Access Controls
Cameras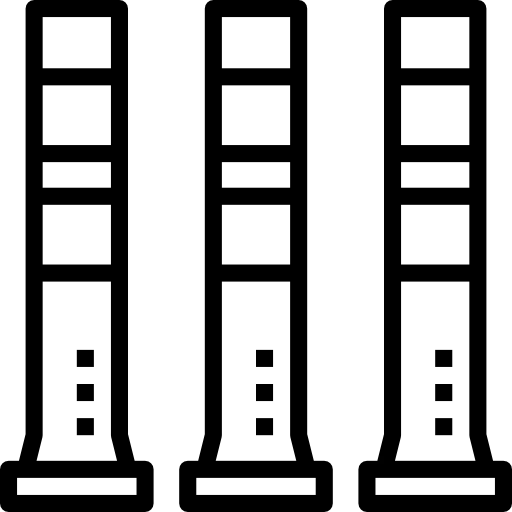 Bollards
Crash Safety
At Gate Logic Security, our experienced estimators take a thorough approach to project assessment. Through job walks and meetings, we collaborate with you to fully understand the scope and goals of your project. Our estimators diligently take notes, capture photos, and collect any relevant images or documents provided by the customer. With this valuable information in hand, we leverage our expertise to design a solution based on proven strategies and best practices. 
Once our estimators have completed the site walk and gathered all necessary information, our expert design team steps in to create a comprehensive plan for your project. Drawing upon our extensive experience and in-depth knowledge of security systems, we meticulously analyze the collected data, incorporating any provided images, documents, or plans.
We're a one-stop shop for security, our niche is being able to handle contracting for sizable projects from perimeter to interior. We're confident you'll find our knowledge valuable when engineering your project in the proposal phase.
Once we receive your proposal, our team will work closely with you every step of the way to bring your vision to life and achieve your project goals. We understand that each project is unique, and we are committed to ensuring that our proposal aligns with your specific needs. If revisions are necessary, we will gladly make adjustments to meet your requirements. 
The journey begins! Once we have a signed contract, we will swiftly arrange a kickoff meeting with our experienced project management team. This meeting serves as the starting point for your project, where we will discuss timelines, milestones, and ensure a clear understanding of your goals.
Upon completion of equipment installation and configuration, we proceed with closing out the job by providing comprehensive as-built drawings. Our commitment to client satisfaction extends beyond the installation phase, as we include management time to deliver closeout documents, manuals, and warranty documentation.
We understand that automation and technology equipment require regular maintenance and upkeep, which is why our dedicated service team is available daily to address any concerns or issues that may arise. Rest assured, we are committed to ensuring the continued performance and reliability of your security systems.
Gate Logic Security has a strong presence in Northern Virginia, Maryland and Washington, D.C.
From McLean to Potomac, Alexandria to Washington, D.C., and Great Falls, Gate Logic Security is your trusted partner for automatic gate and access control solutions. We proudly serve these areas, and if your project takes us beyond, we're ready to go the distance. Our dedicated team travels throughout Maryland, Virginia, and Washington, D.C., ensuring quality service no matter where our clients are located. Wherever your security needs may lead, we'll be there. Reach out today and let's secure your world together
Gate Logic Security provides comprehensive service agreements designed to ensure the long-term performance and reliability of the security systems we install. Our preventative maintenance plans are tailored to keep your automated, mechanical, and electrical security systems in optimal working condition, minimizing the risk of equipment failures.
By entrusting your security system maintenance to us, you not only enhance the overall effectiveness and efficiency of your systems, but also protect the warranties and maximize the lifespan of your equipment investment. Our expert technicians will conduct regular inspections, perform necessary adjustments, and address any potential issues before they escalate, providing you with peace of mind and a secure environment.
Gate Logic Security has a proven track record of securing properties, from residential to government installations. Trust us for tailored security solutions based on our expertise.
Hillandale HOA, Georgetown, D.C.
At Hillandale HOA, we not only installed a comprehensive security system but also played a crucial role in the design aspect of the project. We meticulously planned the conduit layout, island design, placement, and shape, transforming the entrance and exit of the community into a secure and efficient space. Our expertise in gate automation and access control allowed us to create a fully integrated, state-of-the-art security solution that seamlessly blends with the community's aesthetics while ensuring maximum protection. The combination of our innovative designs and cutting-edge technology has elevated the security infrastructure at Hillandale HOA to new heights, providing residents with peace of mind and a heightened sense of safety.
USDA Building, Washington, D.C.
Gate Logic Security takes immense pride in having successfully installed cutting-edge swing gate operators and state-of-the-art PTZ (Pan-Tilt-Zoom) cameras at the USDA building's security gate entrances in Washington, DC. This significant accomplishment was achieved by our expert team, who meticulously designed and implemented these innovative solutions, providing an advanced security infrastructure that adheres to the highest protection and surveillance standards. This project has not only fortified the overall security of this high-profile government facility but also underscored Gate Logic Security's commitment to promoting safer environments through the fusion of breakthrough technology and industry expertise.
NIH, Bethesda, Maryland
Gate Logic Security takes great pride in playing an instrumental role in bolstering the security measures at the esteemed National Institute of Health (NIH). Upholding our commitment to delivering superior security solutions, we successfully restored and now maintain their crash wedges, providing an elevated level of protection for this prestigious institution. Trust Gate Logic Security for comprehensive security installations that prioritize safety, offering unrivaled peace of mind for globally significant institutions.
Our exceptional service extends beyond just our skilled technicians to our dedicated office staff, who play a vital role in ensuring a seamless experience for our clients. Our friendly and knowledgeable team is always ready to assist you, whether it's answering inquiries, scheduling appointments, or providing updates on your project. We take pride in fostering a friendly family culture within our organization, where teamwork, respect, and collaboration thrive.
At Gate Logic Security, we believe that a positive work environment translates into better service for our clients, and we strive to create a welcoming atmosphere that values both professionalism and a warm, friendly approach.
Gate Logic Security is backed by valued relationships with a comprehensive network of vendors and distributors.